AIRCRAFT PAINT STRIPPING
Over the past 16 years, Aquamax has been stripping paint from a variety of aircraft in the GA sector. In that time we have stripped hundreds of aircraft across a wide variety of types e.g. Beech 1900D, Fletcher FU-24, Hughes 500, Piper Chieftain.
Our process comes complete with comprehensive documentation to allow sign-off by a LAME if required. We use ultra-high pressure water directed through a rotating, multi-jet nozzle to strip the paint and corrosion from panels and components. The process use 100% pure water with no added chemicals, filtered down to 1 micron.
The results are superb:
No abrasion or scratching to rivets or panel work
No corrosive chemical residue
No fumes
All waste cleaned up and disposed
High quality surface prep ready for your painter
CASE STUDY - CESSNA 185 - DRAKE AVIATION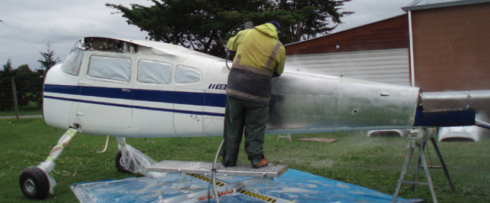 Drake Aviation, a long running flight training school with several students and modern planes, needed professional quality aircraft paint stripping done on a Cessna 185.
the client, Bruce Drake, required careful removal of the original factory assembly coatings under his guidance.
Aquamax faced very stubborn primer coats, which made the job more difficult than usual, but quality was never undermined to achieve the desired result. Using the right tools for the job and highly skilled team members, the stripping was done to perfection, leaving the airplane ready to prime and paint.
Our team worked under Bruce Drake's direction, who was satisfied to see a job that would take him 80 hours done in such short time. The advantages of paint stripping using water jetting, over the conventional chemical stripping, were made clear.